Defect: Part One is out! My Legacy Code readers kept asking what happened back on Earth, so I started this prequel novella series for them. Early readers (all Legacy Code readers) seem to love it so far, and it has 18 reviews already. It's available exclusively on Amazon and can also be read for FREE through Kindle Unlimited.
If you are wondering about Paragon (Legacy Code #2) – It's coming! I will be releasing the shorter Defect installments in between the longer Legacy Code books. You might also have noticed the new cover for Legacy Code. I think the new cover better conveys the kind of story Legacy Code is. Paragon's also getting a new cover to match. 😉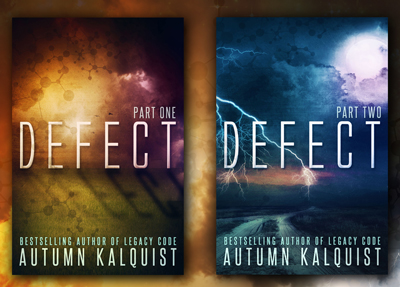 "Won't Give Up"…on this song.
I'm a singer and songwriter. It's not in my website header anymore, but I am. I pursued a music career before I started writing novels. Singing's in my DNA, and I can't quit, no matter how much old men in suits say I'm too old to be doing this. (I'm not 30 yet, but they told me I was at the edge of "too old" at 21.)
A few months ago I told you guys I read some science fiction books and then dreamt a song. That really happened. I recorded what I dreamt in one (awful) Audacity file and sent it over to my producer Freya. We've rewritten the instrumental to this song at least four times. The percussion was especially…elusive.  I suppose that's the trouble with dream songs.
Freya blogged about it this morning:

So. Tomorrow. I think tomorrow will be the day I make a video for it and upload it to Youtube. My newsletters subscribers will get a high quality MP3 download, like they get of all my songs.
If you want to get excited for the song, you can get started reading Book One of the Molly Fyde series by Hugh Howey (Molly Fyde and the Parsona Rescue).  I'd just finished  reading Book Two when this song manifested. Molly has to search for the people she loves… and she "Won't Give Up".
If you want to read about our journey with this song so far, here are the other posts I wrote about it:
(Wow. I just realized I started writing this song before Legacy Code was even published. That's crazy!)